To:

Mayor Wayne Brown
Wayne Brown: Don't Cut Community Services!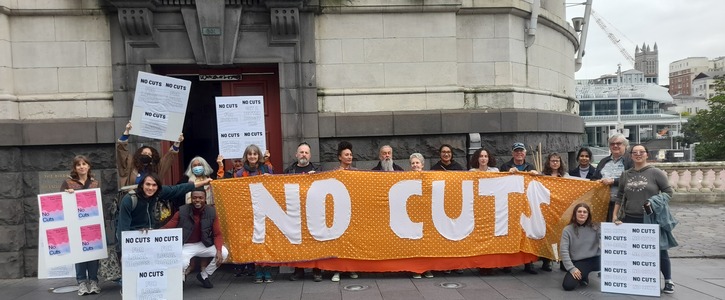 Wayne Brown needs to reconsider the options available and provide a fair budget that is adequately researched.
A cost benefit analysis of any cuts to community services should be provided within consultation documents, as well as a clear understanding by the council of exactly what initiatives and programmes will be impacted.
Council must explore options to increase revenue alongside carefully executed budget cuts.
We urge Mayor Brown to meet with community leaders to discuss a range of alternative options.
Why is this important?
NO CUTS
Wayne Brown's Budget 2023/24 is proposing to cut funding to crucial community support services during a cost of living and climate crisis. The people of Auckland are deeply concerned about the proposed budget. We understand that the Council is facing financial challenges, but we urge Auckland Council to reconsider these cuts as they will have a severe impact on the community.
"Cutting regional community focused initiatives … of all groups working with Māori, Pasifika, youth, refugee, new migrant and rainbow communities." - Page 30, Te Wāhanga Tuatoru: Te Pūtea e Marohitia Ana, Annual Budget Proposal 2022/23. We can see the budget has targeted marginalized communities, yet does not suggest cuts to industry and business whatsoever.
The proposed budget cuts will have far-reaching consequences for all Aucklanders, but especially our most vulnerable residents, including children, the elderly, the working poor, and those with disabilities. Cuts to climate change, social services, community venues, public transport, arts,and education will have a devastating impact on these communities, and protesters are determined to make their voices heard.
The proposed cuts to community services, including libraries, community venues and centers, youth and homelessness, early childhood education, Arts and culture, water quality and public transport, will have a negative impact on the quality of life for many Auckland residents. These services are essential for the well-being of our community and provide opportunities for social interaction, education, and access to essential resources.
Furthermore, the proposed cuts to environmental initiatives, including park maintenance and waste management, will have a detrimental effect on our environment. These initiatives are critical to the sustainability of our city and the protection of our natural environment and resources.
We understand that difficult decisions must be made regarding the budget, but we urge the Council to prioritize the needs of the most vulnerable. We believe that alternative solutions and a better budget is possible. The Auckland council's feedback report suggested that the majority of Aucklanders reject this proposed budget, and it is not suited to serve Auckland residents.
The sale of the airport shares is not necessary or helpful and will take Auckland backwards. The airport shares are an important revenue stream, the airport is increasing in value, and it is an asset that the Council can borrow against. The 18% shareholding is also an opportunity for public voice on the future of the airport, a strategic asset - and it is important that the Council holds onto public control in the face of climate and health emergencies.

The Community Coalition against the Cuts demands that Auckland Council, Mayor and Councilors listen to Aucklanders. Consider and implement the voices of Aucklanders who took their time to give their feedback. We fully reject this proposed budget, and we demand the following:
1- NO CUTS TO REGIONAL & COMMUNITY SERVICES
2- INCREASE RATES & DEBT
3- NO SALE OF AIRPORT SHARES
The super-rich must pay for this budget deficit, not the most vulnerable. We demand that any shortfall in the Council's books should be filled through increased rates on big business, and charges on luxury items such as private helicopters and super-yachts, not cuts which hit the poorest hardest.
We need to be expanding services, not cutting them. We demand that the Council expands public transport, making buses and trains free and frequent, and takes more action on climate change amidst a climate crisis. We demand more funding to tackle poverty and homelessness.
Therefore, we call on Auckland Council to reconsider the proposed budget cuts and to find alternative solutions that do not compromise the well-being of our community and our environment.
We fully reject this budget we will not sit by quietly.
We say, NO CUTS!
Community Coalition Against Cuts