To:

Rt. Hon Prime Minister Chris Hipkins and Deputy Prime Minister Hon Carmel Sepuloni
Open Letter: Progress modern slavery legislation before the election

World Vision and Tearfund
On Friday 28th July, the government announced they will be introducing modern slavery legislation.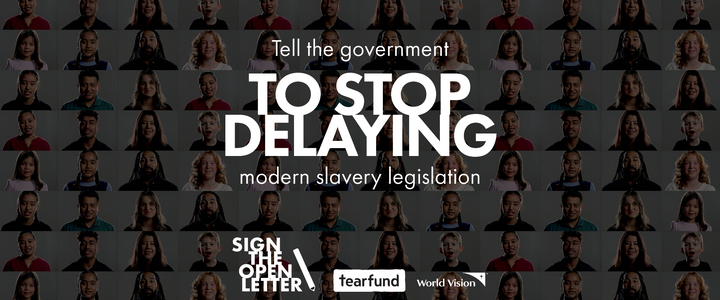 Dear Prime Minister Hipkins and Deputy Prime Minister Sepuloni,
We believe in a world where everyone is safe at work, treated with dignity and rewarded fairly. Sadly, this is not the case, with approximately 50 million people trapped in slavery globally. Many of these people, including children, work to produce goods we buy right here in New Zealand. We urge you to prioritise those who are trapped in modern slavery and introduce a bill to address modern slavery to Parliament before the election.
Why is this important?
New Zealanders pride themselves on treating others with dignity, respect and kindness—and this should extend to the people who grow our food, sew our clothes and mine the metals for our phones. Yet, we know that New Zealand is importing billions of dollars of goods at high risk of being made by people forced into slavery and businesses are taking little action to address these risks in their supply chains¹.
This is because New Zealand has no law requiring companies to know who makes their products or to ensure they are not using slavery. This disregard for the lives of others is not the New Zealand way.
Last year, your government shared a plan to change this. Your then Minister for Workplace Relations and Safety, Michael Wood, said he expected to introduce a modern slavery bill to Parliament in this current term. It's now been months, and we've seen no action.
Prime Minister Hipkins, you said that this matter was a priority for your government and that decisions would be announced soon, but we are still waiting. And while we wait, men, women and children are trapped in slavery making our products.
There's been too much progress to let this legislation fail at the eleventh hour. An open letter from the business community; a 37,000-strong public petition; Modern Slavery Leadership Advisory Group meetings; and a public consultation process demonstrated overwhelming support for the legislation. But your government has failed to deliver.
There is a proposal for law ready-to-go that is fit for purpose, well-prepared, and has widespread support from businesses and Kiwis.
We've heard loud and clear that New Zealanders want legislative action on modern slavery. There's no time to waste.
Introduce the bill to address modern slavery to the House before the election.
https://www.youtube.com/watch?v=YpcDxIH3CrQ
¹ World Vision New Zealand (2023), Risky Business report.