To:

Margie Apa, Riana Manuel, Paula Tesoriero, Megan Main, and Dr. Diana Sarfati – CEOS of Te Whatu Ora, Te Aka Whai Ora, Whaikaha, and ACC, and the Ministry of Health
Open letter: Fund pay equity for care and support workers now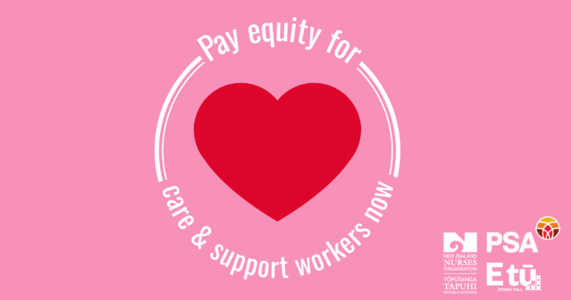 Fund the pay equity claim for all care and support workers, and stop the delays so we can reach a settlement.
Why is this important?
When care is in the community, whānau stay connected to the people and places we love. All of us want our family members to get the support they need to live independently and well.
People who deliver care and support to our older ones, disabled whānau, and folk recovering from illness or injury are key to the infrastructure of care communities need to look after everyone.
For far too long, their work has been undervalued because funding agencies and governments of all stripes have underpaid for work that has traditionally been done by women.
We urge you to fund the pay equity settlement for all care and support workers as soon as possible.
For over a year we have undergone a rigorous pay equity process. We have systematically proven and measured the undervaluation of care and support workers based on their gender. Thousands of hours and many resources have been devoted to analysis that was signed off at each milestone. Unions and employers are ready to make this happen.
But your agencies that fund care and support work continue to lag behind on providing sufficient funding to deliver pay equity and have interfered in an evidence-based and prescribed process adhered to by employers and unions.
As a result, too many workers are struggling to make rent payments and put food on the table while they're made to wait. The need for care and support grows as our population ages while services lose staff to better paying professions and strain to recruit new people.
We are calling on you to stop the delays and interference now so the claim can progress. The situation is now urgent and overdue.
You have a huge opportunity to strengthen this cornerstone of our community health system, nourish services that care for families, and transform the lives of 65,000 workers.
Aotearoa celebrated proudly in 2017 when unions won an historic pay increase for care and support workers following landmark legal wins championed by aged care worker Kristine Bartlett. We knew it wasn't right that care and support workers were struggling to make ends meet while doing some of the most important work there is.
Since then, their wages have regressed back to minimum wage while the cost of living has skyrocketed.
Care and support workers change catheters and stoma bags, and make sure medicine is taken. They support families through the difficult changes that come with health problems. They assist disabled people to live independently at home. They show up for folk who don't have friends or whānau to come to visit. They help people shower, turn over in bed to avoid pressure areas, and to live well. They support people through mental ill-health or addiction to keep going. They're with loved ones at the end of their lives.
Once again, it's time to make sure care and support workers are paid what they're worth. This time for good.
Please fund the pay equity claim for all care and support workers urgently so we can reach a settlement.
From,
Public Service Association Te Pūkenga Here Tikanga Mahi, E tū, and New Zealand Nurses Organisation Tōpūtanga Tapuhi Kaitiaki o Aotearoa
With the support of:
Carers New Zealand
Alzheimer's New Zealand
New Zealand Society of Diversional and Recreational Therapists
Grey Power
National Council of Women New Zealand
Auckland Women's Centre
YWCA
Kristine Bartlett
Saunoamaali'i Dr. Karanina Sumeo, Equal Employment Opportunities Commissioner / Kaihautū Ōritenga Mahi
Professor Katherine Ravenswood (AUT)
Migrant Action Trust
Gabriela Aotearoa New Zealand
Migrante Aotearoa New Zealand
New Zealand Council of Trade Unions
Unite Union
NZEI Te Riu Roa
New Zealand Professional Firefighters Union
MERAS Midwifery Employee Representation & Advisory Service
Tertiary Education Union Te Hautū Kahurangi
Tertiary Institutes Allied Staff Association
National Union of Public Employees