To:

Te Papa Tongarewa, Te Papa Board
Te Papa: Tell the Truth about Te Tiriti o Waitangi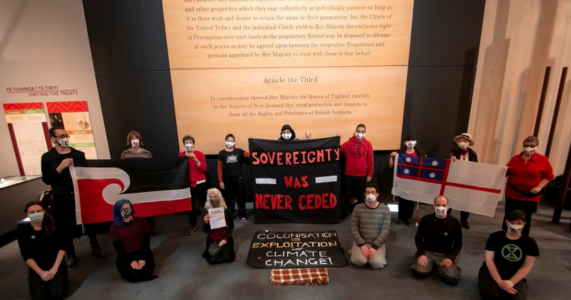 The permanent exhibit 'The Treaty of Waitangi: Signs of a Nation' is deceitful and must be changed with all due haste in order to accurately reflect our history. As a first step, we call for the urgent removal of the illegitimate English Treaty version from its current place of prominence alongside Te Tiriti o Waitangi and for it to be replaced by an accurate English translation of Te Tiriti o Waitangi.
Why is this important?
Since the 1998 opening of the Museum of New Zealand/Te Papa Tongarewa, it has never honestly been 'Our Place'. The permanent exhibit 'The Treaty of Waitangi: Signs of a Nation' has been untruthful and a continuing act of colonialism since Te Papa's doors first swung open. Even with the well-spring of experts and experience brought in to guide them, it appears that the Te Tiriti o Waitangi exhibition was always intended to deceive by misrepresenting NZ history to all its visitors. The English 'Treaty' displayed prominently and equally across from Te Tiriti o Waitangi (in Te Reo Māori) implies the two documents hold equal status and legitimacy. This is a lie, as Te Tiriti is the only internationally-recognised document with legal authority. The current design of the exhibit also implies that the displayed Treaty (in English) is a true translation of Te Tiriti, which is another lie, as there are significant material differences between the two texts. These differences need to made obvious, rather than being in the 'fine print' which many won't read.
Te Waka Hourua, with support from members of Extinction Rebellion Aotearoa New Zealand, have written to Te Papa's Board, calling for removal of the English artefact from its place of prominence alongside Te Tiriti o Waitangi, and also staged a protest at the exhibit in solidarity with Māori resisting ongoing colonial oppression. Although Te Papa has acknowledged our grievances, they have not taken any action. This is of additional concern as it will be mandatory for schools to teach Aotearoa New Zealand history from 2023, making the obligation on New Zealand's 'national museum' to correct its misinformation even more urgent. Te Papa shouldn't wait, and must act as soon as possible: our nation has already endured 181 years of deceit founded on inaccurate historical accounts (in addition to pre-Tiriti colonial history).
References:
https://www.stuff.co.nz/environment/climate-news/126779415/climate-protests-kick-off-as-council-issues-disruption-warning-for-wellington.
https://www.education.govt.nz/our-work/changes-in-education/aotearoa-new-zealand-histories-in-our-national-curriculum/.
What will happen after the petition closing date of 6 February 2022?
Te Waka Hourua will provide an update on the petition result via live webinar (preferably on Waitangi Day 6 February 2022, but details to be confirmed closer to petition closing date), and invite open discussion about next steps.
Groups in support of this petition:
- Network Waitangi Whangārei
- Peace Movement Aotearoa
- STIR (Stop Institutional Racism)
- Climate Justice Taranaki