To:

Prime Minister, Ministers, MPs and Local Government
COVID19: Re-set Our Economy Sustainably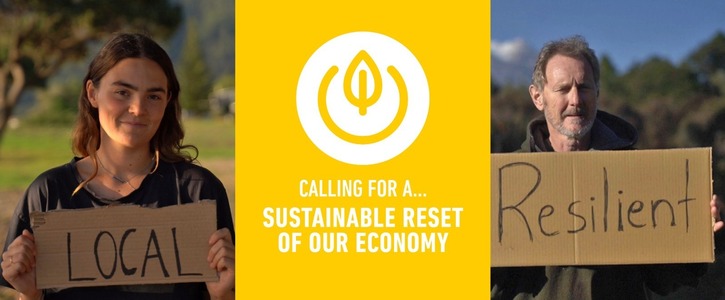 Dear Prime Minister, Ministers, MPs and Local Government,
There is an unparalleled opportunity we have been presented on the back of the terrible crisis that is COVID19. As Leaders, you are making important decisions and billions of dollars, borrowed from future generations, are about to be spent.
We have come together to urge the Government to spur sustainable possibility into reality during this economic reset.
With opinions from contributing experts, this letter demonstrates that by combining Mātauranga Māori, technology and systems already in existence we can:
🌏 Build a strong, resilient economy
🌏 Begin living our international reputation as a green country
🌏 Respect Papatūānuku and her biophysical limits
🌏 Foster inclusive, true wellbeing for our people and the generations to come.
Doing so will result in a New Zealand with a strong, resilient, local economy that is truly sustainable and regenerative.
A country that prioritises all our people and our planet.
A country that respects that we are one with nature, not above.
This is action that science, and legally binding international agreements, require us to urgently take. What this could look like in practice is outlined in the following Key Areas provided by respective industry experts*:
1. Methodologies and Solutions From Indigenous Knowledge:
We ask that solutions that; restore the balance between people and nature; force economic investment not only within the physical limits of our ecosystems, but also within the cultural limits of the Māori worldview; and are inclusive of all peoples and knowledges be supported. For they offer us unique solutions to ensure our recovery is productive, sustainable, inclusive and world-leading.
2. Unlocking Renewable Energy:
We must not invest stimulus funds in fossil fuel intense projects that will be at odds with our existing and anticipated climate targets, or bail out emissions intense businesses without strong conditions tied to our climate and energy ambitions. We urge you to consider and apply these principles in your decisions: accelerate don't stall climate action; bring forward transformational climate investments; prepare our workforce for future jobs; uphold Te Tiriti o Waitangi; continue fixing the emissions trading scheme; and measure success beyond just GDP.
3. Regenerative and Conversion Focused Agriculture:
Emerging now is a viable and exciting regenerative solution for sustainable food and fibre production not dependent on fossil fuels. Based on ecological principles, regenerative farming systems mimic natural ecosystems, so that they restore rather than degrade the land and freshwaters over time. They are complex and interconnected as opposed to linear siloed approach we have currently and are inherently resilient economically and ecologically.
4. Kickstarting the Zero Waste Circular Economy:
Examples of how this could look include:
• Prioritise investment in systems built around reuse, including reusable packaging and sterilisation infrastructure, over recycling processors and landfills to manage throwaway packaging. These reuse systems must go all the way up the supply chain, not just focus on consumer-facing waste.
• Prevent and reduce waste through phase-outs of single-use disposable items and difficult to recycle products, such as composite materials and plastic polymer types 3, 4, 6 and 7. Instead, standardise packaging and encourage reuse systems. These measures should go all the way up the supply chain, not just focus on consumer-facing waste.
5. Low Carbon Mobility:
This is what transport could look like
• 'Nova Zeelandia' will be the Holland of the South where biking is the norm not the exception.
• Smart buses and other forms of public transport make personal car ownership unnecessary for much of the population.
• Children walk or bike to school in safe neighbourhoods.
• Most travel from Auckland to Hamilton is by fast train taking just one hour.
It's clear from these ideas that who is at the consulting table is of utmost importance. We urge you to give sustainable solutions the weight they deserve at a time when we have the means and motivation to implement them.
Can we as a country be agile and lead by example on the world stage by accelerating out of this with a resilient, local, sustainable economy and inspire other nations to do so too?
Or will we return to the sputtering, stalling diesel work-horse knowing, someday very soon, that beast will run out of gas?
We support you to make informed decisions that are kind to both humanity and the planet for decades to come and look forward to your response to our call.
KIA KAHA Leaders.
*(For the full copy of the Open Letter please see https://caliwoods.co.nz/pages/covid19-open-letter-calling-for-a-sustainable-economic-re-set)
Why is this important?
Sustainability has been at the forefront of New Zealand's news, our elections, and spurred hundreds of thousands of kiwis to peacefully protest. Despite this, and the extremely urgent message science is giving us, there has been a distinct lack of action.
COVID19, in an unexpected and undesirable way, has given us the opportunity to re-set. Our new normal does not mean going back to the ways we know are broken. Our new normal means re-setting how we live, work, produce and govern in a way that regenerates. To start to heal what we have done while living outside the biophysical limits of the Earth. This gives us, future generations and other species a fair chance. It will help prevent, and be more resilient to, future crises.
This disruption is a time to re-think systems and unite business, government and NGO's. Unlike ever before, we have the means and motivation to collaboratively and fairly transition our economy for a sustainable future.
It's clear that if this opportunity is not navigated properly, with courageous and informed decision making, the future we are borrowing from our Mokopuna (Grandchildren) will not be a bright one. The decisions now will make our bed for decades to come and they must be the right ones. Our Leaders have a moral, and legal (Paris Agreement), responsibility to create a strong, resilient, local economy that regenerates Papatūānuku (Mother Earth) and fosters actualised human wellbeing.
How it will be delivered
Signatures will delivered to Parliament virtually via a live event.