To:

New Zealand Ministry of Foreign Affairs and Trade
Protect the Right to Life with Dignity of the Banaban Community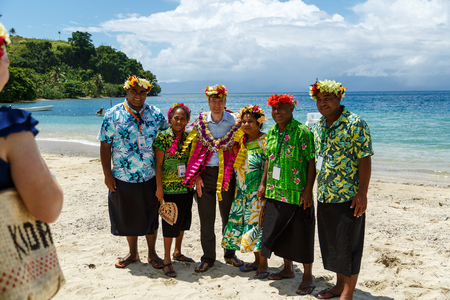 In the mid 20th century, hundreds of Banabans were displaced from Banaba Island to Rabi Island, Fiji due to the devastating impacts of phosphate mining. Today, Banabans on Rabi continue to face discrimination as a partially self-governing entity falling between the cracks of Fiji and Kiribati.
The Justice for Rabi: The Story of Banaba exhibition at Silo 6 in Tāmaki Makaurau Auckland (February - March 2023) has shed light on the persistent injustices against the Banaban people from decades of phosphate mining, forced relocation, and underdevelopment.
As extractive industry, militarism, and the climate emergency continue to threaten Pacific communities' right to life with dignity, countries like New Zealand must lead the way in demonstrating restorative and resilient partnerships with harmed communities.
We are calling on the New Zealand government to claim responsibility for the harm caused to Banaba recognising the millions of tonnes of Banaban phosphate used as fertilizer to support the growing settler colonial population in the 20th century.
The New Zealand Ministry of Foreign Affairs and Trade must take immediate action to initiate redress of the harm caused to the Banaban people from phosphate mining and forced relocation by making a public apology and taking the following steps:
1. Disburse immediate development assistance to Banaba to ensure the population has sustainable access to basic food supplies and clean water.
2. Open dialogue with the Fiji Ministry of Foreign Affairs and Office of the Prime Minister regarding initiating direct aid to Rabi supporting climate adaptation, education, and capacity building.
3. Send an urgent fact-finding mission to Rabi to map key development gaps with the local community.
4. Extend immigration access for Banabans in New Zealand through education programming, healthcare access, and a seasonal worker quota for Banabans.
5. Establish an Ambassador-at-Large solely responsible for Banabans in Rabi and in Banaba.
6. Incorporate Banaban history into New Zealand's secondary school history curriculum.
Why is this important?
As a colonial power, New Zealand exploited Pacific Islands including Banaba, part of modern-day Kiribati, where 90% of the island's surface was mined by the British Phosphate Commission – jointly owned by the British, Australian, and New Zealand governments – from the early 1900s to the end of the 1970s. This extractive practice left behind barren and uninhabitable land, resulting in the forced resettlement of Banabans to Rabi island in Fiji in 1945. To this day, Banabans on Rabi face discrimination as a nation of people falling between jurisdictions with none wanting to take responsibility.