To:

Starship Hospital and the Auckland DHB
Our children with Crohn's disease and ulcerative colitis deserve the same care as adults!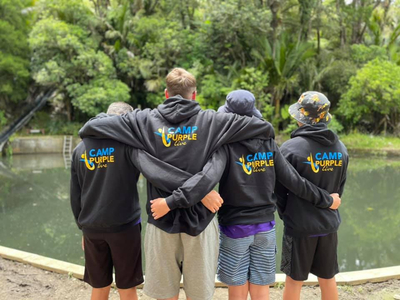 For years, the hospital has acknowledged the critical importance of this role in providing standard-of-care treatment for children with Crohn's Disease and ulcerative colitis. However, no IBD Clinical Nurse Specialist has been employed at Starship.
It is time that Starship honoured the lives of the children that have been impacted by their inaction, and employ an IBD Clinical Nurse Specialist.
Why is this important?
New Zealand has one of the highest rates of Crohn's disease and ulcerative colitis (known as inflammatory bowel disease or "IBD") in the world. These diseases are chronic and relapsing illnesses, characterised by sudden flares, emergency department visits, frequent hospitalisations, and, often, surgery. It is estimated that there are 20,792 New Zealanders with these diseases and the number is expected to double in the next ten years. Many of these patients are children.
While almost every DHB in NZ funds adult IBD specialty nurses, there is not a single paediatric IBD nurse in all of New Zealand, not even at our largest paediatric centre, Starship Hospital. The issue of equity for this very vulnerable segment of our population needs to be raised.
The critical role of the IBD nurse is to provide direct, immediate medical access and assessment to children when their disease suddenly flares. In these situations, it is prompt treatment which prevents lengthy hospitalisations and life-altering surgery. In addition, IBD nurses are the primary educators of both patients and caregivers, they manage immunosuppressive medications, ensure that preventative measures such as vaccinations and screening procedures are up-to-date, provide advice on diet, manage side effects of medications, and ensure compliance with treatment regimens. Not only does the work of the IBD nurse improve patient outcomes, but it significantly frees up time for their physician colleagues to perform other tasks.
The impact of the IBD Clinical Nurse Specialist on patient outcomes and hospital costs has been well and repeatedly documented. A recent study reported in the British Medical Journal in 2020, demonstrated a one-third decrease in hospitalisations in the year following the addition of an IBD nurse to the GE team (P=0.002). Similar results were reported in a study from the Royal Adelaide Hospital in the Journal of Crohn's and Colitis.
Hiring a single nurse will not only save taxpayers tens of thousands of dollars, but, most importantly, will help keep our children out of the hospital and out of surgical theatres. It will ensure that our children have access to the same quality care that is routinely available to adult IBD patients in New Zealand and to other children throughout the world.