To:

Prime Minister Jacinda Ardern
Open letter to Jacinda Ardern: Put People and Planet first in TPPA-11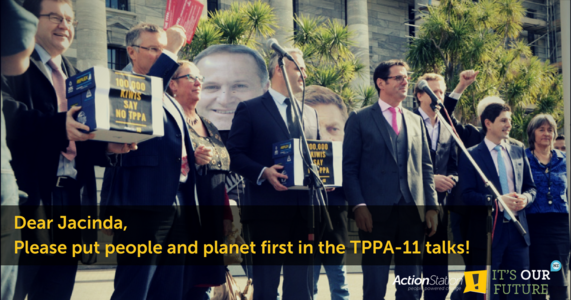 Dear Jacinda,

Welcome to government, we're pleased to have you as our new Prime Minister.

During its 9 years in power, the National government brought New Zealand within a whisker of committing us all to the TPPA. During the last 5 years, hundreds of thousands of New Zealanders have signed petitions, engaged online and taken to the streets in opposition to that agreement.

We did this because the TPPA would have undermined the government's ability to look out for New Zealanders and our natural environment. It isn't just affordable housing that is threatened by the TPPA — access to affordable medicines, a job-creating government procurement policy, remediation of our rivers, protection of Māori taonga, and the ability to respond to climate change would all be in the gun.

Since the USA pulled out of the TPPA, the agreement has crept back to life in the form of the TPPA-11. If the National-led government had had its way, this zombie agreement would have been signed off at the sidelines of the APEC conference in Vietnam this November.

Now that you're in control, please don't rush into signing an agreement in Vietnam that we'll all come to regret. There's no hurry!

In opposition, the Labour Party strongly criticised the National-led government's lack of public consultation on the TPPA. Debating the TPPA Amendment Bill in Parliament, Grant Robertson said that former Trade Minister Todd McClay had "let down New Zealand with the way this process was undertaken: in secret, without conversation with New Zealanders, and without bringing New Zealanders along with him." In the Select Committee report on the TPPA, the Labour Party opposed agreement in the "strongest terms" and concluded that:

"The TPPA will have ramifications for generations of New Zealanders. For their sake, we should not so lightly enter into an agreement which may exacerbate long-term challenges for our economy, workforce, and society."

We couldn't agree more. And now it's your chance to do things properly.

We urge you to please stop the clock on the TPPA-11 and other trade negotiations until New Zealanders' voices have been heard and until Labour and its coalition partners have had the time to develop a new trade policy that will meet New Zealand's needs into the 21st century.

Yours,
[Add your name]
P.S. If you want a place to start, check out the 10 policy positions proposed by It's Our Future earlier this year: https://itsourfuture.org.nz/ten-demands/
Why is this important?
In less than two weeks Jacinda Ardern will be heading to Vietnam to try to finalise the TPPA-11 deal. As it stands, the TPPA-11 is nearly identical to the original TPPA. Both agreements have been negotiated in secret with no chance for meaningful public participation. This is not how democracy should work.
If the TPPA-11 is signed, New Zealand would have to either change or freeze national laws to suit the interests of overseas investors from the other TPPA countries. It would restrict the ability of the current and future governments to respond to the needs of their citizens and the natural environment. Our ability to clean up our rivers, address climate change and fix the housing market would all be undermined.
Let's encourage Jacinda to put the deal on hold until the new government can develop a fresh trade policy taking into account the views of New Zealanders.
For more information on TPPA-11 see: https://itsourfuture.org.nz/tppa-1/