To:

The Incoming Minister of Transport
Keep public transport affordable, for climate and community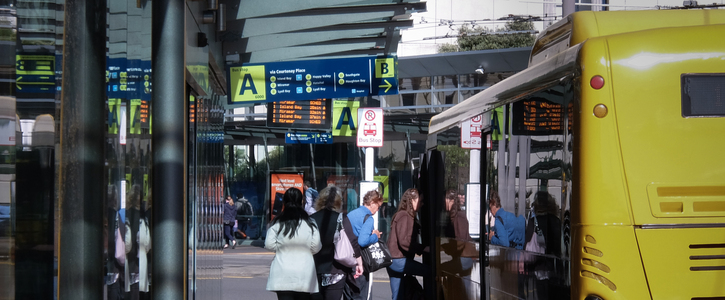 The public transport discounts introduced this year are an important step towards transport equity and emissions reductions. We call for the incoming Minister of Transport to retain these discounts: half-price public transport for Community Services Card holders and under-25s, half-price Total Mobility services, and free public transport for under-13s. In addition, the current discounts should be expanded to 100% Free Fares for all under-25s, tertiary students, Community Services Card holders, and Total Mobility Card holders and their support people. We also acknowledge the need to reduce fares for all other passengers and to increase the reach, frequency and quality of services in underserved areas.
Why is this important?
Aotearoa New Zealand should be a place where everyone can afford public transport to stay connected, enjoy our regions, and travel in a way that's kind to the environment. Everyone deserves to have access to their places of work, study, and community, and this is especially important for young people and for our most vulnerable communities. The public transport discounts introduced in 2023 are a crucial step towards enabling this access, whilst also reducing transport emissions in support of our climate targets.
However, during their election campaign, the National Party proposed cancelling the public transport discounts introduced this year. If they go ahead with this, public transport fares will effectively double for some. Families are already struggling with the cost of living, and the increase in cost of public transport will push many back to cars. For people who don't have the option of driving for reasons such as disability, age, or income level, the financial inaccessibility of public transport worsens social isolation and restricts opportunities for New Zealanders to work towards their dreams.
Keeping public transport fares low helps us meet our climate commitments. Strong evidence from Aotearoa and overseas shows us that reducing public transport fares increases mode shift from private to public transport, reducing our transport emissions. We know that hundreds of thousands of New Zealanders left their cars behind to take public transport due to the temporary half-price fares for everyone in 2022 and 2023.
The shift from private to public transport not only reduces our impact on the climate: it also reduces traffic congestion, which brings economic benefits and allows everyone to travel more efficiently. Furthermore, significant public health benefits result from the reduction in air pollution and road accidents.
Public transport affordability is crucial to supporting New Zealanders in the cost of living crisis and mitigate transport poverty. Affordable public transport gives people access to school, work, family, public services, and enables people to contribute to their community. This access is especially important for the groups who are targeted by the current discounts: young people and tamariki, low-income earners, and disabled people. We also reiterate the need for all tertiary students to be included in these discounts.
Finally, we know that most New Zealanders support keeping public transport fares low. A new poll has found that 71% of New Zealanders want to keep the current public transport discounts, with 50% strongly agreeing they should be kept. There is support across the political spectrum, with only 21% of National voters supporting the removal of the discounts.
We call for the incoming Minister of Transport to listen to what the people of Aotearoa are calling for. Let's hold onto the wins of the public transport discounts introduced this year, and work towards Free Fares for all students, under-25s, Community Services Card holders, and Total Mobility Card holders and their support people. It's a no brainer: this is an easy action the Government can take for climate and community in the midst of the challenges we are currently facing.
Sources: Please see the https://freefares.nz/frequently-asked-questions/ for our evidence.
How it will be delivered
We aim to deliver this petition to the new Minister of Transport in December 2023.