To:

David Seymour, party leader of ACT New Zealand
Keep this election free from violent speech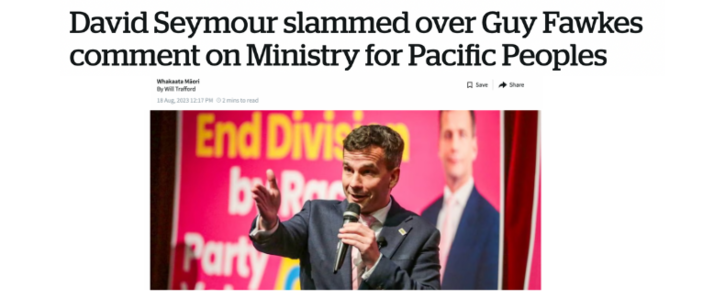 Retract the hostile and divisive statement you made and apologise to the Ministry of Pacific Peoples and the wider Pacific community.
Why is this important?
Elections are a time when our entire country comes together to decide on our political leadership. Everyone has a right to participate and share their view on the direction of our country, no matter their background.
However, we are deeply concerned with your recent comments on NewstalkZB which incite violent rhetoric towards Pacific communities. You told listeners that in your fantasy you'd "send a guy called Guy Fawkes in there [The Ministry for Pacific Peoples] and it would be all over."
Threats of violence are not a "joke". They can normalise violent behaviour and lead to fatal real-life repercussions. In fact, staff at the Ministry for Pacific Peoples had already been harassed at their workplace due to politicisation and race-baiting already aimed at their work.
In 2022 you stated yourself, that violent rhetoric "does not belong in New Zealand politics".
Now we're asking you to practice what you preach, retract your statement on NewstalkZB, apologise to the Ministry for Pacific Peoples and commit to an election free from violent speech.
Elections should be a time when everyone can participate democratically, without their culture or workplace being threatened or insulted. Violent speech chips away at our democracy, when we need it to be stronger than ever.
In a time of shared economic and climate crises, we need political leaders that are willing to respect people of all backgrounds, and refuse to stoke the fire of fear and division in Aotearoa New Zealand.
-----
[1] Deputy PM Sepuloni blasts Seymour's Guy Fawkes 'joke' about Ministry for Pacific Peoples. Newshub, 17 August 2023: https://www.newshub.co.nz/home/politics/2023/08/deputy-pm-sepuloni-blasts-seymour-s-guy-fawkes-joke-about-ministry-for-pacific-peoples.html
[2] Incident at Ministry of Pacific Peoples leaves staff rattled, police called in. Stuff, 18 August 2023
https://www.stuff.co.nz/national/politics/300952879/incident-at-ministry-of-pacific-peoples-leaves-staff-rattled-police-called-in
[3] ACT Leader David Seymour slams Te Pāti Māori for 'threatening violence' in jokes about him. Newshub, 14 July 2022: https://www.newshub.co.nz/home/politics/2022/07/act-leader-david-seymour-slams-te-p-ti-m-ori-for-threatening-violence-in-jokes-about-him.html