To:

Chris Hipkins, Minister of Education
Enable full time nature based early childhood education in NZ - Petition has been presented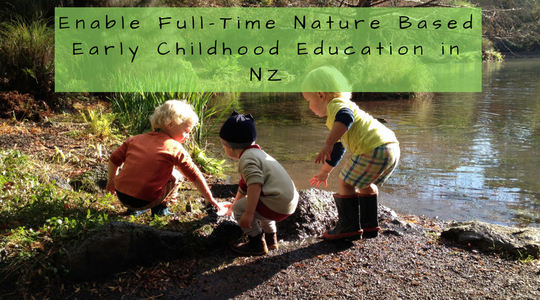 We are asking the government to change the current 'Education (Early Childhood Services) Regulations' to enable early childcare education providers to set up and run full time nature based early childhood education (ECE) centres.
Currently all ECE licences require 2.5sm of indoor space per child. A nature based centre doesn't need this indoor space, however there will likely be some form of shelter.
This petition will support a formal submission that will be presented to the Minister of Education and will suggest a new licence type for nature bases ECE centres in New Zealand.
When we say nature based ECE we mean centres that run their programmes almost entirely outdoors e.g. in a reserve, park, beach-lands or piece of bush.
PLEASE NOTE - THIS PETITION HAS BEEN PRESENTED. YOU CAN STILL SIGN THE PETITION TO RECEIVE UPDATES ON THE NEXT STEPS AND WHAT HAPPENS NEXT.
For further information please contact Celia Hogan, petition organiser [email protected]
Why is this important?
Children today are less active and more sedentary than previous generations having limited opportunities to spend regular time in nature. With parent's busy lives and our children spending more time in childcare centres than ever before, they do not get to experience the same nature-based play opportunities that their parents and grandparents experienced.
This is having a detrimental effect on our children. We are seeing children becoming weaker, less resilient and less imaginative. Younger and younger they are suffering from mental health problems, obesity, oral language developmental problems, anxiety and stress.
There is a movement happening in New Zealand right now as parents and educators recognise the benefits that nature has to offer and visibly see the incredible changes it makes in the lives of their tamariki.
There are so many benefits [1] [2] that nature play can offer including:
• Reducing stress
• Improving social relations
• Enhanced cognitive abilities
• It supports creativity and problem solving
• Increased physical activity, sensory and motor development
• Improved academic performance including oral language, decision making and negotiation skills.
A HEALTHY DEVELOPMENT
In the early years of life, play, particularly free, unstructured and outdoors is essential for healthy brain development, socio-emotional development and healthy musculoskeletal and sensory systems. It is far more important than direct instruction.
Nature can not only heal our children it can build confidence, resilience and is beneficial for their mana atua and overall kotahitanga.
IMPORTANCE OF RISKY PLAY
It provides them with age appropriate risky play opportunities which allow children to understand their own limitations, develop their problem-solving skills and teaches them to overcome fears and anxieties.
CREATING A SUSTAINABLE FUTURE
Creating a play experience outside on a regular basis will not only educate our children about where their curiosity may take them, it also feeds a deeper connection to our natural environment. Instilling these connections in this new generation is of most importance to our Kaitiakitanga and environmental sustainability.
FOR THE FUTURE OF OUR TAMARIKI
In other parts of the world, full time nature education programmes are well established in ECE. These countries include Sweden, Holland, Germany, Switzerland, Italy, England, Scotland, Wales, America and Australia. They are often called forest kindergartens.
Please sign this petition for our children and grandchildren to help give them the option of full time nature-based education in New Zealand.
The benefits are not just immediate but long term and with the early years being a critical time for brain development, supported nature-based play is a must for New Zealand.
[1] http://www.doc.govt.nz/Documents/getting-involved/students-and-teachers/benefits-of-connecting-children-with-nature.pdf
[2] https://naturalearning.org/wp-content/uploads/2017/09/Benefits-of-Connecting-Children-with-Nature_InfoSheet.pdf
PETITION UPDATE 5th July 2019
On Tuesday 25th June at 1pm a group of over 50 nature educators and petition supports including tamariki congregated on the steps of parliament to present the petition to MP's. Nikki Kaye received the petition alongside Ruth Dyson, Chloe Swarbrick, Nicola Willis, Harete Hipango, Ron Mark, Dan Bidois, The Deputy Prime Minster Winston Peters and more!
It was such a special day and made evermore vibrant with the tamariki being present. Celia Hogan as the petition organiser introduced the petition and spoke on behalf of all those who signed and supported it, then 8 year old Kannika Smith gave a speech talking about her time as a preschooler in a nature excursion programme and how much she would love to see this available for all children in New Zealand.
Kannika, supported by all the tamariki presented Nikki Kaye with a beautiful kete which contained the petition. Nikki Kaye accepted it on behalf of National, Labour, Green, New Zealand First and the Deputy Prime Minister Winston Peters.
MEDIA COVERAGE OF THE PETITION 2019:
https://www.tvnz.co.nz/one-news/new-zealand/nearly-6000-signature-strong-petition-urging-government-allow-outdoor-bush-kindies-presented-parliament?fbclid=IwAR2j67jE_6-SzpJq77U4Bny10_5QkyhmWpUVLwLKP-qH4N7horgJRR_KPXE
https://www.tvnz.co.nz/one-news/new-zealand/petition-asking-rule-change-allow-bush-kindies-breaks-5000-mark
https://www.stuff.co.nz/national/education/113748799/red-zone-could-be-home-to-christchurchs-first-bush-kindy-if-parliament-backs-petition?fbclid=IwAR319cXLkojFcyjPXmHQyeTb9FX5SGctLsXPW3EJSUImxviB498ddIcHGLY
https://embed.radionz.co.nz/national/programmes/afternoons/audio/2018701241/celia-hogan-bush-kindergarten-petition-presented-to-parliament
https://www.tvnz.co.nz/one-news/new-zealand/petition-calls-kids-have-access-full-time-nature-based-childcare?fbclid=IwAR3n0-h3A-fGzDBMtXYqs_dU-5xhhaDrV67MJgxNdiTCnZIgj7w7uAfZOtk
MEDIA COVERAGE FROM 2018:
News Paper Article:
https://www.stuff.co.nz/the-press/news/105632188/wading-through-red-tape-and-cotton-wool-to-enable-naturebased-kindergartens
TV Interiew - The Project:
https://www.facebook.com/TheProjectNZ/videos/1295811877222129
Radio Interview with Jesse Muligan: https://www.radionz.co.nz/national/programmes/afternoons/audio/2018657544/bush-kindergartens-changing-the-way-kids-play
Radio Interview with Mike Hosking:
http://www.newstalkzb.co.nz/on-air/mike-hosking-breakfast/audio/celia-hogan-many-parents-want-outdoor-kindys/