To:

Prime Minister of New Zealand
Welcome people fleeing the war in Ukraine to Aotearoa
On Thursday 21st April we handed over the petition to MPs Erica Stanford, Vanushi Walters and Ricardo Menendez March. The petition will now be submitted to Parliament.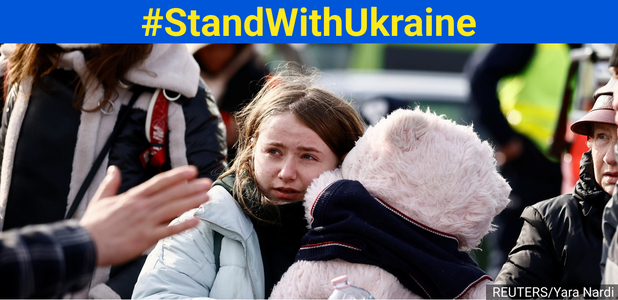 We call on the Government to immediately welcome people in Ukraine by providing an immediate priority path to come to Aotearoa/ New Zealand by:
· allowing temporary visa-free travel on humanitarian grounds
· instituting a fast-track visa application process
· increasing the visa categories available to Ukrainians
· and establishing a quota for Ukrainian refugees
This should include all people based in Ukraine, regardless of their race or ethnicity, including migrant workers and students stranded by this war.
Why is this important?
All people, regardless of where we live or what we look like, deserve to be able to live in peace and safety. But right now, the people of Ukraine have had that choice taken away from them. On the night of February 24th Russia invaded Ukraine. Cities were bombed. Civilians murdered. The actions of the Russian army has forced many people to leave their homes. At this rate, the situation looks set to become Europe's largest refugee crisis this century.(1)
While the world seeks to find a way out of the turmoil of war in Europe, something New Zealand can do right now is to provide refuge and security to Ukrainian people who have had their lives overturned by the Russian invasion.
As a community of Ukrainians-Kiwis together with our fellow Kiwi friends we ask the New Zealand Government to step up and help our family members and other innocent people fleeing the war. Other countries including the UK, Ireland, Canada and Australia have already provided some or all of the above pathways for resettlement, we need to also do our part.(2,3,4,5)
References:
1.https://www.unhcr.org/news/briefing/2022/3/621deda74/unhcr-mobilizing-aid-forcibly-displaced-ukraine-neighbouring-countries.html
2.https://www.gov.uk/government/news/further-support-for-ukrainians-fleeing-russia-invasion
3. https://www.gov.ie/en/press-release/00aef-minister-mcentee-announces-immediate-lifting-of-visa-requirements-between-ukraine-and-ireland/
4. https://www.international.gc.ca/world-monde/issues_development-enjeux_developpement/response_conflict-reponse_conflits/crisis-crises/ukraine.aspx?lang=eng
5. https://www.homeaffairs.gov.au/help-and-support/ukraine-visa-support