To:

Chief Custodial Officer of Corrections Neil Beales
#StopCorrectionsCensorship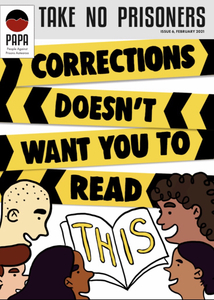 All people deserve the right to speak out against injustice. For prisoners to realise that right, they must have access to information, which the Take No Prisoners newsletter provides them. We call on the Chief Custodial Officer of Corrections, Neil Beales, to reverse his unlawful censorship of Take No Prisoners immediately.
Why is this important?
Take No Prisoners is a human rights newsletter for prisoners that has circulated in prisons since 2018. Throughout its six issues, the newsletter has provided prisoners information about their human rights, how they can access the right forms to make complaints and ensure they're followed up on and how they can peacefully organise to solve their problems. Take No Prisoners also shares prisoners illustrations and poetry, and provides puzzles like sudoku- all important ways for prisoners to maintain creative outlets and connections during their time inside.
This year, after the Waikeria Uprising, Take No Prisoners was suddenly and unilaterally censored by the Department of Corrections. This is yet another pathetic attempt on the part of the state to clamp down on criticism of its failures to abide by human rights law. Take No Prisoners is a platform for discussing peaceful action to protect the dignity of our incarcerated whānau. It is vital that this unlawful censorship is overturned immediately.
You can read our newsletter that Corrections doesn't want you to read here: https://papa-site-assets.ams3.cdn.digitaloceanspaces.com/newsletters/take%20no%20prisoners%206%20-%20web.pdf?fbclid=IwAR2UNxTCE0GQ59wVZ7FqVijrA_cFg8WVDE7Am3ioIE5k8j6kn-tYy2HJxKg
Incarcerated people have a right to discuss their problems and to have the resources they need to take peaceful collective action to address those problems. When incarcerated people have this, they can solve their problems and won't feel they need to escalate into engaging in another uprising like what happened at Waikeria prison earlier this year. This makes prisons safer for everyone. Protecting the free speech of Take No Prisoners is essential to enable all of this to happen. The banning of Take No Prisoners even violates Corrections' Hōkai Rangi strategy. How can that strategy be implemented if Corrections censors criticism of its serious and ongoing failures?
Corrections censorship of Take No Prisoners is also a horrendous violation of Section 14 of the New Zealand Bill of Rights Act 1990, which states: "Everyone has the right to freedom of expression, including the freedom to seek, receive, and impart information and opinions of any kind in any form." If we don't stand up for the freedom of incarcerated people to criticise Corrections, then our right to criticise people in power will continue to be eroded. We cannot allow unelected prison bureaucrats to undermine our right to criticise the Government.