To:

Auckland Council and the NZ Government
Save our Sands - stop sand mining at Mangawhai Pakiri Beaches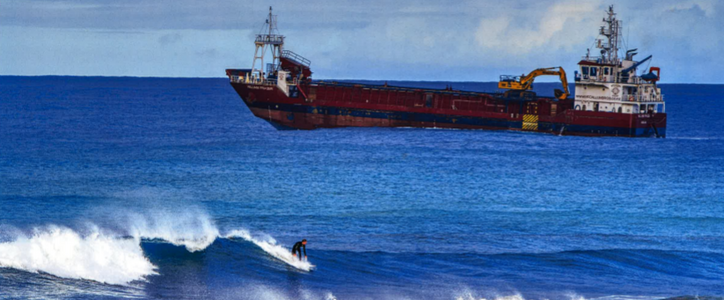 This petition is the continuation of the petition started by Friends of Pakiri Beach; it has been updated to to announce the support of GreenPeace and the shocking news of 2 new consents that are being applied for by McCallum Brothers.
These relate to sand dredging consents 1) In-shore and 2) Mid-shore. They are in addition to the McCallum's existing 2020 application for 3) Off-shore dredging*. The two new applications are closer to shore and they directly impact the beach and its precious environment.
Thank you for your previous support in opposing the first consent. We urgently need your support and action again in two ways;-
1. Please make TWO opposing submissions to the council.- deadline is the 10th Dec
2. Please share the page to others so that they may also submit their opposition and say "no"!
Your voice counts, if you have also observed changes to the beach please tell your story through a unique submission or please feel free to copy and paste suggested wording below.

Every submission counts and takes only a short amount of time to complete. Best case, please make two separate opposition submissions, being as against each application, below. Using the provided template wording below, it should only take two minutes per submission by clicking on the blue box on the Council's submission pages, "Make A Submission".
Links to the two Council submission pages;
1) In-Shore consent;
https://www.aucklandcouncil.govt.nz/have-your-say/have-your-say-notified-resource-consent/notified-resource-consent-applications-open-submissions/Pages/ResourceConsentApplication.aspx?itemId=481&applNum=BUN60352951
2) Mid Shore consent;
https://www.aucklandcouncil.govt.nz/have-your-say/have-your-say-notified-resource-consent/notified-resource-consent-applications-open-submissions/Pages/ResourceConsentApplication.aspx?itemId=482&applNum=BUN60369079
Information below can be copied and pasted into the three boxes on page 3 of the Council's online submission process.
Box 1; The specific parts of the application to which my submission relates to are;
The non complying activity and the form(s) of its exercise. Being the offshore, gross extraction of sand from, and disturbance to, the sea bed, using a (trailing) suction pipe, in the Mangawhai -Pakiri embayment.
Box 2; The reasons for my submission are;
- causal offshore and onshore adverse environmental effects to: coastal processes, flora, fauna, sea bed, water quality, biodiversity & the onshore beach system
- recent science has clarified closure depth, effective sand inputs & the overall annual sediment balance for the near shore Mangawhai Pakiri embayment
- the near shore sand system is in annual deficit from effective sand inputs minus total dredging extraction volumes
- the beaches have lost significant volumes of onshore sand reserves & are in a critical state
- the consent Holder has breached many key conditions of the consent, on and off the water
- significant & persistent seabed trenches have been created further offshore by the dredgers, which they never revealed
- there are alternative & sustainable sand supply sources
- a finite, precious resource as enjoyed by the greater public, is being depleted for private profit
- near shore sand dredging is out of step with the Hauraki Gulf, Regional and National directives and Climate Change considerations, protocols and commitments
- Auckland Council, via its Coastal Consents unit, is an incompetent and ineffective Regulator
- Pakiri is one of the last remaining constant indigenous territories in the Auckland Region
Box 3; The decision I would like council to make is;
The ending of all dredging in the Pakiri Mangawhai embayment and the non renewal of any consent(s) or amendments thereto
Why is this important?
Pakiri beach, two hours north of Auckland, is a natural treasure. People come to enjoy its glistening white sand, miraculous dunes, precious ecosystems and the rare species that make it their home. It should be protected as a taonga for generations to come.
Yet for decades Pakiri has been mined for its white sand. It's the site of the largest single nearshore sand mining activity in the developed world. Sand mining involves extracting sand from the sea floor. Sand mining literally sucks the life out of our sea bed floor, leaving 16km of suspended sediment plumes in its place. Yet, just as the benthic sea bed community is being appreciated as ever more important. Dredging releases carbon stores ("blue carbon"); it is out of step with these times, just as seabed trawling is being phased out in many places.
With less sand making it onshore, it also causes erosion to dunes and foreshores. This sand extraction is causing erosion, destroying shellfish beds, stealing safe nesting spots from endangered birds and ruining surf breaks.
Pakiri Beach is home to the Fairy Tern, New Zealand's rarest bird. There is a finite supply of Pakiri Beach's sand and once it's gone, it's gone forever. There are other non-erosionary sources of sand, so it's not necessary to mine Pakiri Beach. The dredging is by NZ's oldest marine reserve, with two new Auckland Reserves are at either end of the beach. Can there be a less appropriate place for dredging?
We now live in an era of environmental awareness. Single use plastics bags have been banned, we all now think about and mitigate our environmental impact in everything we do. So why in this environmental era, in Green NZ of all places, allow permits to mine sand, in an intensive, primitive way from precious beaches like Pakiri, when there are alternate sustainable sources and so much future climate volatility and uncertainty looms?
As COP26 is underway and the world seeks to changes its ways and work with the environment and find new sustainable paradigms, the McCallum's approach is the following. They specifically commissioned a new dredging vessel which has been delivered and is being used, of double the holding capacity of their other vessels. Now they wish to expand their operations and the volumes as taken from new consents of higher volumes and a 35 year term. The contradiction in terms could not be any starker. This is what we are up against.
Save our Sands being Friends of Pakiri Beach, Te Whanau O Pakiri, Tangata Whenua, locals and concerned New Zealanders, with the support of GreenPeace, are taking a stand and we need your help!
Join us in saying 'no' to sand mining. Sign and share the page and please submit your opposition to Auckland Council and make a difference.
Damon, Nick and the FOPB team.
* We are still awaiting a decision on the first consent. It has been delayed because we alone were able to reveal deep seabed trenches caused by the dredging, which hadn't been revealed by the dredger's. This has caused the resource consent hearing committee to stipulate further investigation. We are making a difference.