To:

Minister David Parker
Push pause on water bottling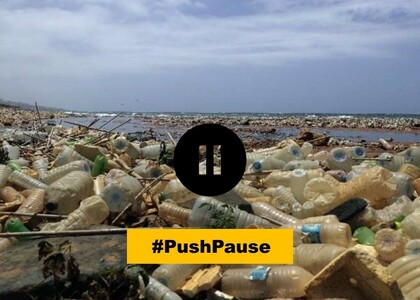 We call on Minister David Parker, as the Minister for Economic Development, Trade and Export Growth and the Environment, to request that Cabinet sign an executive order for a moratorium on all applications for resource consent to take and/or use water for water bottling or bulk export - pending an independent inquiry with tangata whenua representation.
Water bottling is a polluting, extractive industry that is essentially unregulated in NZ. Before councils grant any more consents to take (or use) water for water bottling or bulk export, we must have an informed discussion about what a rapidly expanding water export industry means for our environment, Maori cultural values and rights, our communities, water security and the extent of our sovereign right to manage our wai. A levy on bottled water does not address these issues.
The Inquiry must consider and report on (at least) the following:
• The opinions and experiences of the NZ public, tangata whenua, organisations and businesses through a submission process. The people of New Zealand need to be heard on this issue.
• The true social and environmental and economic costs of the water bottling industry and our ability to manage those under existing regulations. This must cover all forms of pollution including plastic pollution, carbon emissions and industrial discharges; lost opportunity in terms of water use; and all costs associated with the impacts on transport infrastructure.
• The impact of the water bottling industry on Māori cultural values, and the impact of current regulations (under the RMA and Overseas Investment Act) and free trade agreements on the Crown's ability to meet its obligations under Te Tiriti with regards to water. The outcome of the Wai 2358 Inquiry must be considered.
• Central Government's options for managing or banning industrial water bottling for private profit in a way that prioritises protection of the environment and the human right to water. This should include options under the RMA, and the OIA. Options for managing the industry through trade policies and strategies should also be considered including developing social and environmental policy to guide investment decisions.
• Regional Councils' options for managing industrial water bottling for private profit in a way that prioritises protection of the environment and the human right to water. This must include an assessment of the power under s30 RMA to allocate water amongst competing activities.
• Any limitations to the Government's ability to protect or preferentially allocate water under NZ's free trade agreements.
The moratorium should not be lifted until new regulations to manage the adverse effects of the industry are in place and Maori rights with respect to water are resolved, or until a ban on water export for private profit is implemented
Why is this important?
Clean water is limited and precious – it is a taonga. With many aquifers at or nearing allocation limits, with shallow aquifers increasingly violating drinking water standards and with the climate emergency threatening global water security, we need our resource management system to protect our wai and prioritise the wellbeing of Aotearoa's people and environment. It is failing to do that.
The water bottling industry is expanding rapidly. Each consent granted ensures the production and transportation of millions more plastic bottles every day. This industry threatens what we value – our taonga, our water, the oceans, our climate and our future.
A royalty on bottled water cannot protect these values – on the contrary, it will create financial incentives to grant new permits, produce more bottles and export more wai.
With reform of the RMA and a new National Policy Statement for Freshwater Management in the pipeline, we are calling for an independent inquiry with tangata whenua representation to consider the reasons for, and the consequences of, the growth of the water bottling industry as well as the Crown's responsibilities and options going forward.
Treasury's claim that we cannot include water as a new class of sensitive asset under the Overseas Investment Act (OIA) because of our free trade agreements, confirms that our sovereign right to protect our wai is under threat. However, with enough political will these free trade agreements can be renegotiated or abandoned if they harm NZ's interests. Therefore, we need to keep on the table options that appear to be limited by these agreements.
SUPPORTED BY:
Refill NZ - https://refillnz.org.nz/
Mike Smith (Environmentalist)
N.B. If you are part of an organisation that would like to publicly support this petition let us know by email ([email protected]) and we'll add you to our pages.
SUPPORTIVE CANDIDATES FOR LOCAL BODY ELECTIONS:
Lan Pham (Environment Canterbury aka Canterbury Regional Council)
SUPPORT SUSTAINABLE OTAKIRI
Sustainable Otakiri are still fundraising to pay the costs of taking Cresswell NZ to Court. The Court's Decision is expected in a couple of months. If you would like to support them, here's a link to the Givealittle Page: https://givealittle.co.nz/cause/funding-our-appeal-to-save-our-water
RELEVANT ARTICLES & STORIES:
Print:
http://bit.ly/Governmentinvestigatesroyalty