To:

Aotearoa, New Zealand
Pledge to use our votes for Climate Justice in the 2020 Election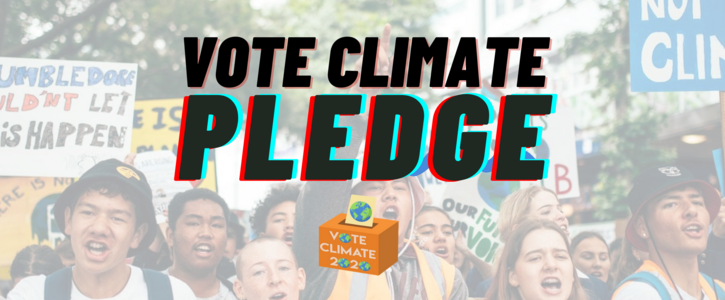 We pledge to use our vote for climate justice in the 2020 election.

Voting is the strongest power we as citizens have at election time to create the change our planet Papatūānuku needs. Our pledge means we are calling for real action on climate change and we'll use our vote to get it.
Why is this important?
The stakes for the 2020 election have never been higher: the action we do or don't take on climate change in the next ten years, and in this election cycle, will determine the future we are passing on to the next generation.
We are inviting all people in Aotearoa New Zealand to pledge to use your vote for climate justice in the 2020 election.
During COVID-19, our team of five million demonstrated overwhelming kindness, compassion and support for one another. We came together to get New Zealand into one of the best positions globally in relation to COVID-19.
This is one just step. As we recover, we must ensure we are doing the same to use the opportunity to show other countries how a green recovery can be done, with climate justice at the centre.
🌏🌏🌏
This is the perfect opportunity to centre a just transition for all which is aligned to Te Tiriti ō Waitangi.
When we say climate justice, we mean indigenous justice, disability justice, social justice and all other facets of justice - a just transition, with no one left behind.
We can build better by recognising the intersectionality of the issues and challenges we face and make progress across the board.
🌏🌏🌏
This planet that we share is facing its own pandemic, suffocated by 100 corporations contributing 70% of global emissions and by political leaders who simply aren't doing enough.
We need to stand up for Papatūānuku, our Earth Mother, now more than ever.
🌏🌏🌏
Let's take this moment to co-create a new 'normal' which puts this planet that we all share to thrive.
Our elected representatives listened to the science on COVID-19, now it's time for them to do the same with climate change.
The climate crisis threatens people, nature, and everything we care about. The crisis calls on us to re-organise our economies and relationship to the planet and each other.
Whether it's the health system, our jobs and income, our local beaches, our favourite patch of native forest, our communities, or our mental health – we won't go back to business as usual.
By voting for better climate change policy means we will be voting for everything and everybody we care about to have a better future.
🌏🌏🌏
Many of the policies we need will have co-benefits for other environmental and social issues.
Some of these benefits include: improving health and economic outcomes with less cars and more active transport, food sovereignty from growing and buying more nutritional, mostly plant-based produce locally, and decentralising power and energy supply, leading to savings for communities.
By decarbonising our economy, we will create more time for doing the things we love, with the people we love, in the nature we love. It will mean working less and sharing more. Driving less and cycling more. Polluting less and planting more.
Overall, climate change policies will make our society more resilient as they intersect with every aspect of our lives.
🌏🌏🌏
Make the pledge now!
In the 10 weeks leading up to polling day, Vote Climate is holding events across the country to encourage New Zealanders to vote climate. Events, spread across cities and regions, encompass everything from rallies to cross-party climate debates.
The campaign aims to inspire voters to find more about their parties and candidates' stance on climate change, and push every party to provide a comprehensive climate action plan that aims to keep us below 1.5 degrees of warming by halving our greenhouse gas emissions.
Head over to the Vote Climate 2020 Facebook Page to check out the different events happening each Friday https://www.facebook.com/pg/voteclimate2020nz/events/