To:

The NZ House of Representatives
No Weapons Expo, No Warships
Petition was presented to Parliament on February 14th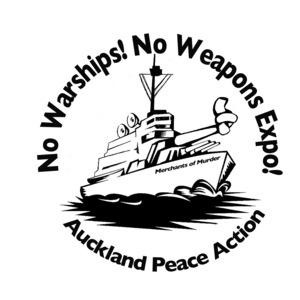 1. Stop providing sponsorship, funding and support to the annual NZ Defence Industry expo, and militarisation.
2. Redirect the "Vote Defence Budget" for urgent housing, educational, health, social and environmental needs, and for supporting an increased refugee intake from war torn countries.
3. Support a strong stand for peace. Kia kaha.
PETIHANA HOUHANGA RONGO
Kaua e whakaae ki te hui taonga-patu, me te pōwhiri i ngā waka pora ki roto i o mātou puaha.
Ki te Whare o Raro o te Pāremata o Aotearoa
Ko tā mātou:
He whenua Karihi-Kore Houhanga Rongo a Aotearoa. E mautohe ana mātou i te utu nui e haumi ana i ngā waonga pakanga, e kore e taitu ana i te whakatuatea, engari ka akiaki kē i te whakarekereke, ki hea noa iho he pakanga mutunga kore.
E kore mātou e whakaae ana ki te tautoko o te Paremata i te hui taonga-patu mo ngā rōpu taonga patu o te ao. Ko te 16 me te 17 o Whiringa-ā-rangi ngā rā kua whiriwhiria mo tēnei hui ki Tāmaki Makau Rau, ā, ko te rōpu hanga taonga-patu nui ake o te ao, hanga taonga-patu kōrihi hoki, a Lockheed Martin, te tino kaitautoko o tēnei hui.
E whakatakoto ana mātou, o Aotearoa, i te mānuka ki te Paremata:
1. Kāti te tautoko i te hui a tau o te Roopu Waonga o Aotearoa, me te mahi whakareri mo te pakanga.
2. Tākoha i te moni mo te "Vote Defence Budget" ki ngā raru pāpori, ngā raru whare, ngā raru kura, ngā raru hauora, ngā raru taiao, me te tautoko i te whakanuia i te āheinga ki te pōwhiri i ngā rerenga mai ngā motu e kaha pakanga ana.
3. Tū kaha mo te houhanga a rongo.
Why is this important?
Aotearoa New Zealand is a Nuclear-Free Peacemaking nation. We oppose the investment of billions of dollars in the military and new weaponry, which clearly does not deter terrorism, but rather contributes to violence, and war cycles.[1]
We will not stand for the government supporting an arms expo for international weapons companies. This is proposed for 16 and 17 November 2016 in Auckland, sponsored by the world's largest weapons manufacturer and maker of nuclear weapons, Lockheed Martin.[2]
In June, 2016, the government announced $20 Billion of new spending on weaponry. At the same time, it extended an invitation to a US warship to visit NZ for the first time in 32 years. In November this year, this will all culminate in a week where warships dominate Auckland Harbour, and 500+ weapons dealers take over the ANZ Viaduct events centre for a trade show. The NZDF, Ministry of Defence and NZ Trade and Enterprise provide funding, personnel, equipment, displays and expertise for the Weapons Expo.
The $20 Billion new military spending includes the purchase of new warships and aggressive cyberwarfare capabilities described by Minister Gerry Brownlee as a "significant weapon" [2] This is despite that the government's own evidence that "the country does not face a direct military threat in the foreseeable future." [3]
While billions are funnelled to multinational arms dealers, the real threats to ordinary people in New Zealand mount: poverty, homelessness, lack of adequate health care and catastrophic climate change.
Auckland Peace Action is a grassroots community group working to oppose the warships and the weapons expo. We believe that it is not possible to build a peaceful and just world while simultaneously acquiring ever more weapons and doing more planning for war. This petition is an important part of our campaign this year to bring pressure on the government. Join the campaign for peace!
[1] See "Does US Intervention overseas breed terrorism?" Foreign Policy Briefing. The Cato Institute. http://object.cato.org/sites/cato.org/files/pubs/pdf/fpb50.pdf
[2] More information on the Weapons Expo can be found at http://www.nzdia.co.nz

[3] http://www.stuff.co.nz/national/politics/80835677/defence-white-paper-20b-defence-upgrades-for-new-planes-boats-and-cyber-security
[4] Ministry of Defence. 2016. Defence White Paper, p10.
http://www.defence.govt.nz/pdfs/defence-white-paper-2016.pdf
How it will be delivered
Auckland Peace Action sees this petition as an important part of our campaign opposing the weapons expo and the visit of foreign warships in November 2016. We need your support now to make this petition as powerful as possible. All the signatures will be delivered in the immediate lead-up to the weapons expo.