To:

Anne Tolley, Minister for Social Development
Justice for Abuse Survivors
The new Labour-led Government have announced a Royal Commission of Inquiry into Abuse in State care. The Inquiry will have wide scope to investigate all types of abuse and neglect and the places it occurred. Thank you for adding your voice to the chorus of support for the brave survivors, Ngā Mōrehu. It mattered. May this Inquiry be a another powerful step in the reconciliation and healing process. When we stand together for what is right change happens. Thank you. Anneleise
4 Feb 2018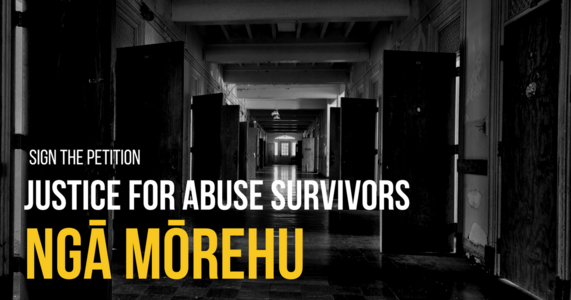 We demand you follow the recommendation of Judge Henwood and the draft Human Rights Commission Report and set up a wide-ranging independent Commission of Inquiry into the historic sexual, physical and emotional abuse of children in state care, to ensure these abuses can never happen again. [1]
The Inquiry should seek to discover the scale of abuse, acknowledge the harm done to victims and clearly identify the failures in the system that allowed the abuse to occur.
It is your professional, moral and ethical duty as Minister to expose and address the systemic failings in state care, give a voice to victims and create a robust framework to offer redress for the immense harm these children - our most vulnerable - suffered while in the care of the state.
Why is this important?
LATEST NEWS
1 Feb 2018 The Government has announced a Royal Commission of Inquiry into Abuse in State care.
Nga Morehu get their inquiry : https://www.facebook.com/TheHuiNZ/videos/742691129273284/
A chance to right historic wrongs : https://medium.com/actionstation/a-chance-to-right-historic-wrongs-e9a3c702dbde
Petition delivery 6 July 2017 https://www.facebook.com/ActionStationNZ/videos/1248051378650401/
LATEST NEWS
On 9 April 2017 current affairs programme The Hui screened a powerful, extremely sad and important report with four survivors of state care abuse speaking candidly about their experience and the effects on their lives. The need for an inquiry is now being demanded on all sides. You can:
1. Watch the report on The Hui: http://www.newshub.co.nz/home/shows/2017/04/four-former-wards-of-the-sate-share-their-horrific-stories-of-abuse.html
2. Sign and share the petition for justice for child abuse survivors. #NgaMorehu (the survivors)
3. Join prominent New Zealanders and sign the open letter to demand justice: http://www.neveragain.co.nz/
Latest Media:
Proper response needed to abuse in care, 10/4/17 https://www.newsroom.co.nz/@future-learning/2017/04/10/18708/responding-to-abuse-in-care?platform=hootsuite
****** 
More than 1000 New Zealanders told a confidential panel their experiences of sexual, physical and emotional abuse as children, while in the supposed care and protection of the State. These children were abused in foster homes, health camps, borstals, asylums and other State institutions.
The Confidential Listening and Assistance Service was established by the Government to listen to the experiences of and to provide assistance to anyone who had concerns or alleged abuse or neglect whilst in State care. While this service has allowed a small percentage of those affected to receive acknowledgement and compensation, it does not address the systemic issues.
In the final report of the Confidential Listening and Assistance Service, Judge Henwood, who lead the Service, detailed the harrowing experiences of children who were wards of the state. The sexual, physical and emotional abuse, and neglect detailed in the report covers foster homes, institutions, asylums, health camps and borstals from the early 1940s up to 1992. [2]
Judge Henwood noted in her report that the impacts of the abuse on the survivors interviewed included depression, PTSD, alcohol abuse, addictions, anxiety, panic attacks and chronic low self esteem. Some sexual abuse victims had lifelong painful physical symptoms. Other victims of beatings had difficulty learning and permanent cognitive impairment from head injuries. Some turned to violence and crime and formed allegiances with gangs. In Judge Henwood's words, "The heartless way they had been treated turned them into perpetrators of violence themselves. The legacy remains to this day, filling New Zealand prisons."
The report heard evidence from more than 1100 people and made a series of recommendations to the Ministry for Social Development (MSD) including an independent Commission of Inquiry.
MSD has refused to publicly release the recommendations made by the panel led by Judge Henwood. [3] The Human Rights Commission report on the issue was never published. [4]
We do not accept that the scale, lasting damage to victims and systemic failures of the system will be addressed by an in-house MSD unit.
Judge Henwood's report (which had to be obtained by the media under the Official Information Act) identifies that the panel by no means reached everyone affected.
The New Zealand public can have no faith in the commitment of the Government to the wellbeing of children in state care, that the scale of abuse, and harm caused, has been exposed and acknowledged and that the circumstances that allowed this to happen will not reoccur.
Postscript: 
It is hard for people to talk about child abuse but we must show courage and begin these conversations if we are to make our world safer for future generations of children. New Zealand has high rates of child abuse compared to other countries and it has affected many lives. If this subject brings up personal issues for you please seek help.
Help lines:
Rape Crisis – 0800 883 300 (for support after rape or sexual assault)
Auckland HELP - (09) 623 1700 (24 hour confidential phone line (sexual abuse)
Lifeline – 0800 543 354 or (09) 5222 999 within Auckland
Suicide Crisis Helpline – 0508 828 865 (0508 TAUTOKO)
Depression Helpline – 0800 111 757 or free text 4202 (to talk to a trained counsellor about how you are feeling or to ask any questions)
These organisations offer information and strategies for self care for adult survivors of abuse:
http://isurvive.org/
https://www.havoca.org/
For male survivors of sexual abuse:
https://1in6.org/
http://survivor.org.nz/
More media:
I was part of NZ's history of abuse in state care, 21/3/17 http://thespinoff.co.nz/society/21-03-2017/i-was-part-of-nzs-history-of-abuse-in-state-care-and-im-in-no-doubt-an-inquiry-is-crucial/#.WNBx2v5vmWQ.twitter
Hearing and Healing the Violence of State Care, New Zealand Association Of Psychotherapists, 11/4/17 http://www.scoop.co.nz/stories/GE1704/S00053/hearing-and-healing-the-violence-of-state-care.htm
References
[1] http://www.radionz.co.nz/stories/201825742/justice-delayed-justice-denied RNZ
[2]https://www.scribd.com/doc/275802182/Final-Report-of-the-Confidential-Listening-and-Assistance-Service-2015
[3] http://www.radionz.co.nz/news/national/298632/state-care-abuse-report-ignored,-judge-says
[4] http://www.radionz.co.nz/stories/201825742/justice-delayed-justice-denied RNZ
[5] http://www.nctsn.org/trauma-types/complex-trauma/effects-of-complex-trauma