To:

Hon Andrew Little (Health) and Hon Chris Hipkins (Tertiary Education)
Increase the Psychologist Workforce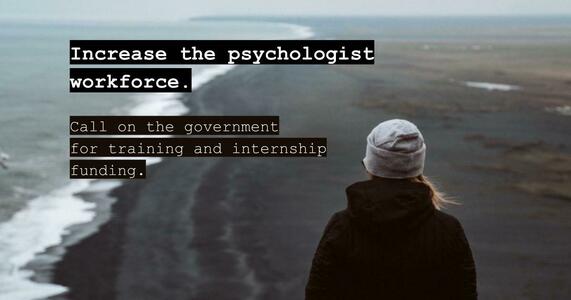 We call on the Government to invest in doubling the number of psychologists being trained for registration by adequately funding training and internships.
Why is this important?
**** We delivered the petition on Wednesday 8 September but you are welcome to still add your name to be part of this campaign ****
It is not good enough that we keep encouraging people to reach out for help when there is no help available. It is not good enough that the government talks about creating and expanding mental health services whilst failing to invest in growing the workforce.
Psychologists are mental health experts who have thorough training in understanding, assessing, and providing treatment for people experiencing a range of psychological difficulties. Notably, psychologists are well equipped to help people experiencing acute mental health difficulties, who are currently being let down by inpatient care. Psychologists' therapeutic practices are guided by best available local psychological research and theory, and adapted to meet the needs of each client and family. Psychologists also play key roles in training and supervising other health and mental health professionals.
In the report of the 2018 New Zealand Government Inquiry into Mental Health and Addiction, He Ara Oranga, it was acknowledged that an immediate priority was to increase the Psychologist Workforce. Despite this, there has been a minimal increase in the number of psychologists being trained. At Te Herenga Waka-Victoria University Wellington, for example, the number of students being trained has increased from 10 to 12, despite there being more than 9 times that many people applying to the course each year and estimates suggest we currently need more than 1000 psychologists to fill the workforce shortage.
New Zealand's mental health crisis has reached a tipping point once again. Private clinical psychologists are turning away up to 60 clients a month, and access to psychologists through the public health system is even more dire. We are calling for a long term commitment to increasing the workforce.
The barriers to training more psychologists are currently two-fold.
Firstly, at a university level, more upfront investment is required in order to hire new staff and fund associated facilities such as expanding internal training clinics.
Secondly, new psychologists require internships, and due to the lack of streamlined funding there are not enough services with capacity to supervise and pay intern psychologists. The wellbeing budget of 2019 led to an increase of 8 additional Ministry of Health funded internships for clinical psychologists, increasing the number from 12 to 20. There are currently around 120 intern psychologists registered across different programmes, meaning that the funding of 8 new internships barely makes a dent in this problem. Unpaid internships are a barrier to equitable workforce participation and the lack of streamlined funding must be fixed in order to develop a workforce which reflects the populations with highest mental health needs.
With adequate funding and coordination these barriers can be overcome and more psychologists can be trained and registered. This is just one imperative, and logical step - amongst many needed - in order to address the mental health crisis in Aotearoa New Zealand.
I imagine a New Zealand where psychological support and therapy is accessible and equitable. I dream of being part of a workforce where people are able to do their best work to help others in a way that is sustainable. I hope for a day when people can access therapy before they reach crisis point. This cannot happen unless we grow the workforce of psychologists.
Add your name to join this call for more psychologists and better mental health care!
#growthepsychforce
--- About ---
My name is Lucy and I am a clinical psychology student coming towards the end of my training. Previously, I worked for years as a telephone crisis counsellor, where I witnessed the reality that people facing severe mental health difficulties and attempting suicide often do not have any access to mental health services or psychologists. I burnt out badly in this role and experienced first-hand the difficulties in accessing a psychologist as a client. I decided to pursue clinical psychology training but feel scared about the current realities of this work and the future of our workforce. Together, with a group of fellow clinical psychology students, we have decided to raise our voices and demand something changes.
---Links---
https://www.newsroom.co.nz/anna-rawhiti-connell-a-problem-ignored-for-far-too-long
https://www.newsroom.co.nz/mental-health-units-should-provide-more-than-meds-and-beds
https://healthcentral.nz/new-zealand-needs-extra-1000-psychologists-estimates-taskforce/
https://www.rnz.co.nz/national/programmes/morningreport/audio/2018803716/psychologists-turning-away-clients-due-to-high-demand
https://www.stuff.co.nz/national/health/122695066/new-zealands-psychological-crisis-putting-lives-at-risk
https://www.stuff.co.nz/national/health/125485828/people-in-distress-being-turned-away-from-specialist-mental-health
---Banner image description---
Banner image shows a person with long hair and a beanie looking out along beach. The weather is grey. There is white text on a black background which reads "Increase the Psychologist Workforce: Call on the government for training and internship funding."
How it will be delivered
**** We delivered the petition on Wednesday 8 September but you are welcome to still add your name to be part of this campaign ****