To:

The House of Representatives
An Open Letter from the Youth of Aotearoa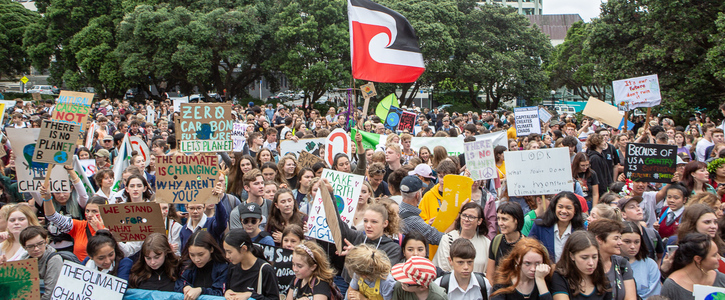 To our elected leaders in Parliament. 


We are the youth of Aotearoa. Your children. Your grandchildren. Your future leaders. We have an urgent message for you, supported by thousands of New Zealanders.

For over 50 years we have known that climate breakdown poses an existential threat to life on Earth. We have known that we cannot afford to keep burning fossil fuels, and depleting our oceans, rivers, forests and land. And yet we have continued to do just that.


Soon we will inherit the consequences of this inaction, and we are scared. 


What's more, we know that thousands of people around the world are already on the frontlines of climate breakdown. Our neighbours in the Pacific are facing the loss of their homes, culture and livelihoods as the ocean rises to their doorsteps.


The great injustice is that those suffering most have done the least to cause this crisis. Our generation will not stand by while this injustice unfolds. 


We have a vision for a safe climate future 🌿. One with plentiful native forests, clean rivers and thriving ecosystems that allow life to flourish. One where people live in harmony with nature and understand that our wellbeing is inextricably linked to its wellbeing. We envision a world where each generation actively works towards a more beautiful world for the next.


Intrinsic to this, is the need to acknowledge the knowledge and approach to guardianship of our natural environment that has been long demonstrated by Māori in Aotearoa and by Indigenous peoples all over the world. 


As we sit on the brink of environmental collapse, we must follow the leadership of Indigenous communities who have for so long been fighting for the protection of Papatūānuku, our Mother Earth, and practice values such as Manaakitanga, Kaitiakitanga, and Whānaungatanga in order to restore balance on this planet, our only home.


Our generation, and those to come, have a right to this future and we will stand up for it. Since March 15th, tens of thousands of us have gone on strike from our kindergartens, schools and universities. We send a strong, united message to the New Zealand Parliament that the youth of Aotearoa demand climate justice. Our movement continues to grow every day, and we have seen an outpouring of support from New Zealanders of all walks of life ✊🏽.
We are committed to making changes in our own lives to minimise our environmental impacts; alongside strikes we have organised beach clean ups and tree plantings across Aotearoa. But we know that the scale of the problem is escalating. We need fundamental systemic change. We need to see meaningful action from Government and big businesses.


We are calling on our elected leaders to act now to safeguard our collective future. This means:
➡️ Parliament acknowledges the magnitude of the climate crisis and the damage it is causing our Pacific Island neighbours by declaring a Climate Emergency. This move will set the narrative for the urgent pace at which we need to act on climate change and must uphold our democratic values and obligations under Te Tiriti o Waitangi.


➡️ Parliament passes an ambitious Zero Carbon Act into law with cross-party support that puts in place a legally enforceable plan to get to net zero carbon by 2040.

➡️ The Government ceases all exploration and extraction of fossil fuels in NZ. This includes not granting any extensions of existing permits. This must be paired with Government investment in renewable energy production and sustainable transport systems to reduce our reliance on fossil fuels.
➡️ The Government invests in building a renewable and regenerative economy now. This means immediate investment in retraining and the provision of alternative jobs in clean, sustainable industries that don't harm the ecosystems on which we depend for survival. This must be done through meaningful partnerships with communities, Tangata Whenua and youth to ensure a just transition and that no one is left behind.


➡️ The Government honours its responsibility to our Pacific Island neighbours by ensuring its domestic climate policies align with the Paris Agreement 1.5 goal; releasing a public adaptation plan for Climate Change survivors to migrate to New Zealand with dignity; and actively supporting the regional and international diplomatic efforts of Pacific Islands Small Island Developing States to increase climate ambition and mitigate the climate crisis before it's too late.
If our generation is to have hope for a future worth living in, we need your bold leadership now.


We, the youth, have started to move. On September 27, we will be joined by adult allies from all backgrounds. United we will rise, and we will continue to do so until we see climate justice. 


We are calling on you to be the leaders you say you are; work with us for a world that you can be proud to pass on 🌏.
From the School Strike 4 Climate movement with the support of the undersigned.
Why is this important?
To solve this crisis, everyone has a part to play. We are calling on all New Zealanders to support our call for action, and commit to helping drive change. 
➡️ We are asking our business leaders to step up and stand alongside us. 
Current business practices are threatening our homes, our families and our communities. We will not stand by while greed for a quick profit undermines our future security, and fuels the loss of homes and livelihoods of our neighbours in the Pacific. If businesses want to continue to have the social license to operate, they need to be a part of the solution. We are the future of the economy, and we will not tolerate inaction on climate change. We ask you, our business leaders, to support our demands of Government and to commit to doing your bit by divesting your businesses from fossil fuels, reducing your emissions, and using your ingenuity and leadership to building the economy of the future; one which doesn't cost us, and future generations, but instead safeguards our continued existence on earth.
➡️ We are asking our parents, grandparents, teachers and communities to step up alongside us.
Think about the things you want for your children or the young people that you love; happiness, stability, freedom, peace, security, health. Climate breakdown puts all of these things at risk. Please listen to us, our hopes and dreams for the world, and help us to make them a reality. Your decisions every day, and your vote every three years, count. Empower your children to fight for their future, and stand in solidarity with them as they strike on September 27.
So, will you join us?
❤️
You can also support the local campaigns for councils to take action on a safe climate future - support and share the campaign for your local council here: https://our.actionstation.org.nz/efforts/declare-a-climate-emergency
How it will be delivered
We will deliver this Open Letter to our elected representatives at the Wellington Strike 4 Climate on September 27th. Please sign before midday Thursday 26th September. Find the details for our march on Parliament here: https://www.facebook.com/events/448745759188378/